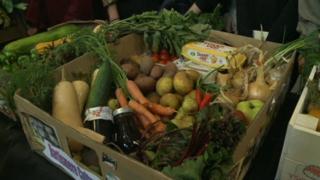 Schoolchildren meet royalty
At this time of year the weather is getting colder, leaves are changing colour and crops are ready to start picking.
Every autumn people celebrate harvest time. It's a traditional celebration of food being brought in from the fields and stored up for the winter ready to eat.
Foods like bread, fruit, vegetables and jams are donated to churches to be given to people in need.
This year the harvest festival is bigger than ever and Ricky has been to London to attend a service with a difference.