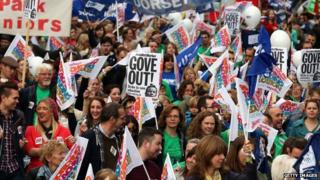 Thousands of schools are closed across much of England as teachers have gone on strike over pay, pensions and jobs.
Teachers in London, Cumbria, the South East, North East and South West are taking part, leaving 3,492 schools shut or partially closed.
Today's strike is part of a campaign of regional strikes involving members of the NUT and NASUWT unions.
Prime Minister David Cameron says the strike is "inconvenient for parents" and "not good for pupils' education".
Teachers are protesting over proposals from the man in charge of England's education, Michael Gove, to pay teachers according to how well they do, increase their workloads and make changes to their pensions.
Plans for a one-day strike across the whole of England, before Christmas have also been announced by the two unions.
Mr Cameron said: "I think it is very disappointing they have decided to go on strike."
"And when we look at the things they are striking over, pensions and pay, they are things that have been decided independently by well-led reviews.
"I was at my children's school today in London. One class was not there but the rest of the school was operating.
"So, every praise to those teachers who have gone ahead and kept our schools open for our kids."