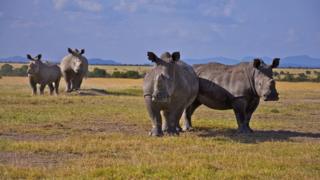 The British army is helping the fight against the poaching of rhinos and elephants in Kenya.
More than 20 British paratroopers are to train Kenyan rangers who are trying to prevent the illegal wildlife trade.
The Environment Secretary Owen Paterson said, "Illegal poaching is having a devastating effect on some of the world's most iconic species and we must work together to tackle it."
"By joining forces with those on the front line in Kenya, our armed services will be able to provide training and support to the courageous people who put their lives on the line every day to protect these animals."
The soldiers will show the rangers how to patrol better, work more effectively as a team, and train them on what to do if they encounter poachers.
Increases in the price for ivory and horn have prompted more poaching across Africa.
Last month Kenya said every rhino in the country would be micro-chipped to help stop the trade.
The microchips are to be implanted in the horns of more than 1,000 rhinos.
This will allow the animals and the poached horns to be tracked.
The micro-chipping project is being supported by the World Wildlife Fund, which donated the chips.
Rhino horn is highly sought after in Asia, where it is used in traditional medicines.