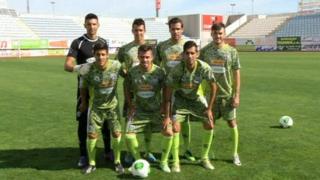 The ugliest football kit ever?
Spanish third division side La Hoya have created what could be the ugliest football kit ever made.
Its bright green shirt has broccoli printed on the front and back of it, complete with matching shorts.
The team's based in the region of Murcia in Spain, famous for the green vegetable, which is said to be the area's most successful export in the last few years.
Team coach, Jose Manuel Campos, admits that the shirt is ugly but says the club felt "familiar" with it and it's drawn attention to them.
But if you think this is bad, ...
Watch more Newsround videos