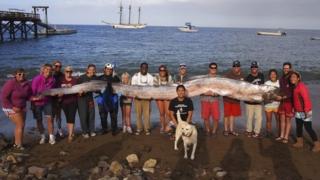 Giant rare fish found in California
A woman has found a giant rare fish that's over 18ft long, off the coast of California in America.
Marine science instructor Jasmine Santana was snorkelling off Santa Catalina island when she spotted the carcass of the enormous sea creature gleaming in the water.
It's called an Oarfish and it's usually found deep down in the ocean - in fact they can dive to depths of around 5,000ft. That's why it's very rare to spot one.
Jasmine needed the help of 15 people to drag it back to shore.
Experts think it died of natural causes.
Watch more Newsround videos