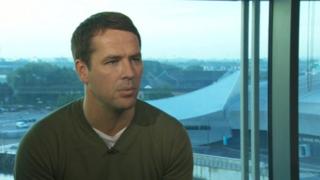 Owen - England can't win World Cup
Ex-England striker Michael Owen says he "can't imagine" England winning the 2014 World Cup in Brazil.
Owen played in three World Cup tournaments and says it's more realistic to look at next year as a chance for young players, like Jack Wilshire and Andros Townsend, to get more experience.
The former Liverpool and Manchester United player also told Newsround that the extreme heat and conditions in South America will make it difficult for any European team, including defending champions Spain, to claim victory.
Watch the clip to see what Owen thinks.
And to see the reaction of England's captain, Steven Gerrard, and manager, Roy Hodgson, to qualifying .
Watch more Newsround videos