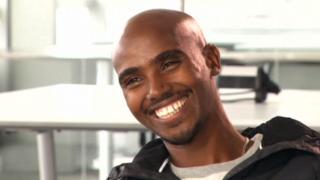 Farah - two-hour marathon "crazy"
Double World and Olympic champion Mo Farah has denied reports that he's aiming to become the first man ever to run the marathon in under two hours.
Mo is planning to step up to the marathon distance after winning the world and Olympic titles at the 5,000 and 10,000 metres.
But he said breaking the two hour mark for the 26 mile distance would be "crazy."
Farah did admit that he was "looking forward" to the challenge of breaking the British record, which stands at two hours, seven minutes and 13 seconds.
Watch Mo talk about his next challenge here.
Watch more Newsround videos