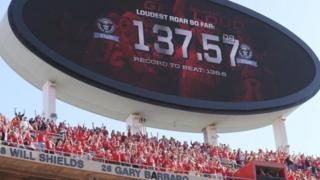 Loudest fans ever make a record racket!
Fans of the Kansas City Chiefs American football side, have been named the loudest crowd at an open air stadium.
They put some effort into roaring their side to victory over the Oakland Raiders.
The crowd reached 137.5 decibels - and that's loud.
It's almost one decibel louder than the previous record, set by fans of another team - the Seattle Seahawks.
Watch more Newsround videos