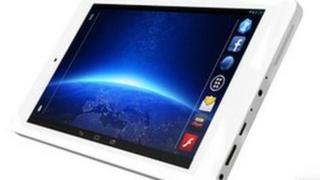 Argos has launched its own-brand tablet computer.
The device, which is 7 inches, will sell for £100 and it will use a Google Android operating system.
It's called MyTablet and it will come pre-loaded with apps and games, Argos said, including Angry Birds and BBC iPlayer.
It's one of many budget tablets to hit the high street - last month Tesco launched a mini tablet called the Hudl, which costs £120 and is more powerful.
Rise of the tablet computer
Amazon, Acer, HP, Lenovo and Kindle all have lower price 7 inch tablets on the market. Apple has the higher priced mini iPad and Microsoft has recently launched it's Surface tablets.
Argos says the MyTablet is available in pink or silver aluminium, and it's aimed at eight to 13-year-olds and has parental controls already enabled.
Shaun Collins, a research expert said: "The UK tablet market has seen enormous growth in the last 12 months - we expect 17 million tablets to be sold this year, over half of them in the 7in category."
"I think the £100 tablets will be the most popular this Christmas because their quality and performance has improved a lot over the last year," said Francisco Geronimo, a European mobile devices expert.
"While they're not as good as higher-priced, more highly specified models, they're good enough for most social networking and gaming needs," he added.