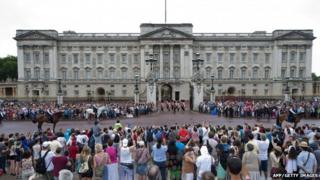 A man has been charged with trespass and other offences after he was caught trying to get into Buckingham Palace.
David Belmar, who is 44 and lives in north London, will appear at court today.
Police said a man tried to enter the palace through its north centre gate on Monday.
The queen wasn't home at the time.
Police arrested two men at Buckingham Palace last month.
Last month there was another security alert when a suspected burglar managed to get into the building after he jumped a fence.