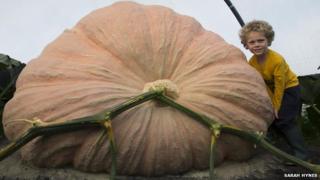 This huge pumpkin has won the record for heaviest pumpkin grown in Britain.
It was grown by gardener - Mark Baggs in Dorset and weighed 689 kg which is more than two thirds of a tonne!
Mr Baggs said he started growing it in April and it took up nearly all his spare time.
The record for the heaviest pumpkin in the world was set on 15 October 2011 in Ontario, Canada.