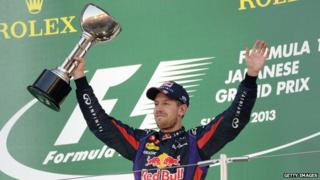 Formula One's Sebastian Vettel is a step closer to being named World Champion for the fourth year in a row.
The Red Bull driver won this morning's Japanese Grand Prix and now has a 90-point lead over his closest title-rival Ferrari's Fernando Alonso.
There's only 100 points still available before the end of season and Vettel is almost certain to seal the championship at the next race in India.
Britain's Lewis Hamilton had to retire after getting a puncture.