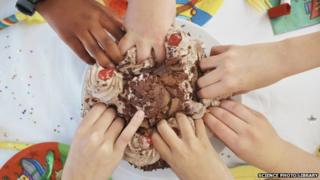 A head teacher from a school in Bath has written a letter home to parents asking them to avoid handing out party invitations at school unless the whole class is invited.
He thinks its unfair and unkind on those children who miss out.
The letter said: "Please could you avoid bringing any party invitations into school that do not include all children in a particular class or year group.
This goes completely against our policy of inclusion for every single child and is divisive and unkind."
We asked what you thought.
Comments
I think you shouldn't invite the whole class because the parent wouldn't be able to afford the party. I usually invite up to 10 of my best friends, not my whole class of 38 pupils, that's crazy!
Shoshoni, Trowbridge, England
I agree with the headteacher as it wouldn't be fair for others who weren't invited. But I do think we should be able to invite who we want.
Daisy, Barham, Canterbury
I think that we should invite who we want to our parties. If you can't hand the invites out at school, where else can you do it?
Caitriona, Hampshire, England
I feel quite left out when I see people handing invitations under the desks and then whispering about how fun their party will be. I think if you are not inviting everyone in your class to your party you shouldn't give your invitations in the presence of other children at school.
Danae, London, England
I think that you should be allowed to take invites into school even if your not inviting everyone because it might be the only time you get to see your friends to give out the invites.
Rebecca, Heysham, Engaland
I don't often get invited to parties and it would make me feel better to not see everyone in my class who has got one.
David, also in Hampshire
I think that everybody in your class should be invited to your party. But if you don't, them the invitations could be handed out after school or something. People never used to invite me to their parties and everybody in the class would say how great and amazing it was and I would be left there speechless.
Nia, Dorset, England
I do think it is unfair but when else will you give them out?
Eva, Antrim, Northern Ireland
You should be allowed to bring invitations into school, but just don't show them to people who are not coming."
Charlotte, Surrey, England
I agree with the rule about not handing out invitations in class because it makes people feel excluded, but you should be able to choose who you invite to your party, and also if you had to invite everyone, then someone who was mean to you might come.
Lula, Brighton, England
I think you should be able to take them into school but it would be better to give them out maybe on the way home from school.
Emily, Tetney, England
I think you should be aloud to give invites out at school because it is up to you who you invite.
Molly, Aberdeen, Scotland
I think we should get to invite who we want because there is no point having a party when half of the guests aren't your friends. It will also cost more and maybe be less fun. I have loads of friends who I want to invite (boys and girls) to my 13th birthday party (around 20) but my parents think it might be too many people.
Georgina, Yorkshire, England
No I don't people should be allowed to give out party invitations unless they are for the whole class.
Phoebe, London, England
I think that we should be able to hand out party invitations to who we want.
Rihanna, Hampshire, England
I think you should be able to hand out invites to anyone you like in school!
Zara, Northwich, England
I think that the children in this school can take invitations into there class and they can invite who they want to invite because thee might be somebody that you don't like in you're class or it might just be an all girls party.
Jennifer, London, England
I think we can invite who we want to parties because you might not like people in your class and it might be a girls party or a boys party.
Connor, Birmingham, England