Tens of thousands of homes have been destroyed by the most powerful storm to hit India in a decade.
Cyclone Phailin hit eastern India overnight with winds of up to 125mph and extreme rainfall battering homes.
Officials say the evacuation of more than 600 thousand people before the storm arrived helped save lives.
14 people are known to have died so far.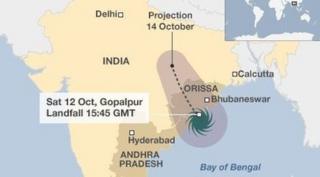 Many people were put in temporary accommodation like schools and churches and are waiting for news of when they can return to their homes.
The area that is affected - Orissa - was also hit by a cyclone in 1999 when more than 10,000 people were killed.
Authorities say they are better prepared this time and 14 deaths have so far been linked to the cyclone.
A huge relief operation is underway to help the hundreds of thousands of people who've lost their homes in the cyclone.
Teams have gone to the area to rescue anyone believed trapped under the rubble.