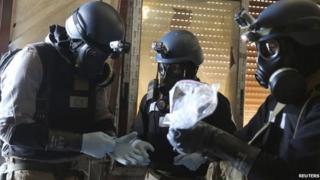 OPCW win the Nobel Peace Prize
The organisation in charge of destroying Syria's chemical weapons has won the Nobel Peace Prize.
The Organisation for the Prohibition of Chemical Weapons has been working to rid the world of chemical weapons for the past 16 years.
They currently have a team in Syria following a poison gas attack there in August which killed hundreds of people.
It is the first time OPCW inspectors have worked in an active war zone.
The high profile award, named after Swedish inventor Alfred Nobel, is for people and organisations who have worked to promote peace around the world.
Many people thought that the Pakistani schoolgirl Malala Yousafzai would pick up the prize this year to become the youngest ever winner.
There was a record 259 nominees for this year's Peace Prize, but the full list remains a secret.
Previous Nobel peace prize winners include anti-apartheid hero Nelson Mandela, US President Barack Obama and the Dalai Lama.