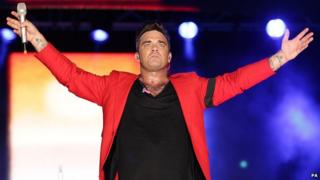 Singer Robbie Williams says he's jealous of Harry Styles and his One Direction bandmates because their songs get played on BBC Radio 1.
Robbie says he is "gutted" his tracks no longer get played on the station.
He also admitted he was jealous of the younger pop stars who are guaranteed airplay, including Harry.
Robbie said: "When Radio 1 is taken away from you, a huge bit of your arsenal goes. It's your main oxygen to get your stuff out there."
Radio One failed to put Robbie's number one single Candy on their playlist last year and their Breakfast host Nick Grimshaw has said the 39-year-old was "not relevant" to the station's target audience of 15-29 year olds.
"I liked Take That when I was little, but I'm not little anymore," Grimshaw said. "I don't know if he's now for a Radio 1 audience."
Robbie, who helped Sharon Osbourne choose her acts on this year's X Factor, has a new swing album out, but it's unlikely to be played on the station.