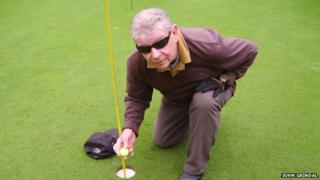 A hole-in-one is a pretty incredible achievement for any golfer, but for Jim O'Brien it's even more spectacular.
That's because 71-year-old Jim is fully blind.
Jim from Market Harborough in Leicestershire, landed the shot on the sixth hole at Surrey's Hindhead Golf Club on Wednesday.
He's been playing for 16 years and said, as far as he knows, he's only the third blind golfer to get a hole-in-one.
Jim said: "It's every golfer's dream, to do a hole-in-one especially if you're totally blind.
"When I teed off, I hit the ball nicely. The only thought I had in my head was, 'Let's hope it makes the green'."After a few seconds, the guys I was with said 'It's in the hole'. It was a great feeling - it's unbelievable."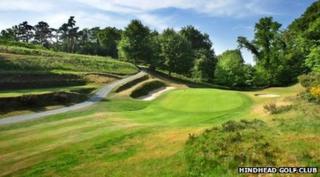 When Jim plays he is helped by a sighted caddie or guide, who lines up for shots for him.
The odds of a fully-sighted golfer hitting a hole-in-one are around 12,000 and 14,000-to-one, so it shows just how rare the achievement is.
Neil Baxter, chairman of the England and Wales Blind Golf Association, said: "It's very, very rare and Jim is totally blind. We're all delighted about it."