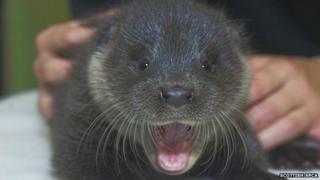 An 8-week old otter cub is recovering in an animal shelter after being found alone on a street in Scotland.
She was handed into a vets and then cared for overnight by Senior Inspector Audrey Gunn.
The next day she was taken to the Scottish SPCA's National Wildlife Rescue Centre in Clackmannanshire where she is doing well.
The orphaned cub has been named Murkle, which is where the inspector who looked after her grew up.