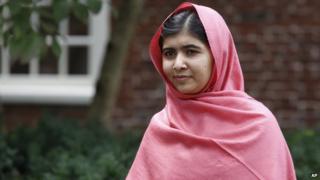 Malala Yousafzai has won a top European human rights award for her campaign to encourage more girls in Pakistan to go to school.
The 16-year-old was shot a year ago by the extremist group the Taliban for fighting for girls' rights to an education.
She was flown to the UK for surgery but has continued her campaign since.
The EU's Sakharov human rights prize is considered Europe's top human rights award.
Malala has also been nominated for a Nobel Peace Prize, the winners will be announced on 11 October.