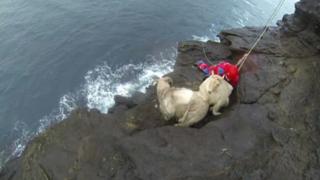 Sheep in dramatic cliff top rescue
This is the moment two sheep were rescued after getting stuck on a cliff edge in Iceland.
Emergency teams had to tie ropes around the sheep and pull them to safety, as they dangled over the sea below.
The sheep had been stuck for several days.
All the action was caught on cameras attached to the rescuers helmets.
The rescue went to plan and the animals are now fine.
Watch more Newsround videos