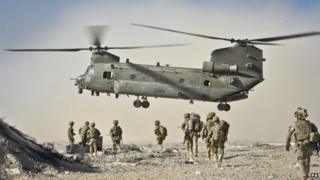 The last big group of British troops has arrived in Afghanistan to help complete the UK's mission in the country.
The 7th Armoured Brigade, known as the Desert Rats, have arrived in Helmand Province in the south of the country, where most of the British troops are based.
They'll be there for nine months and their main job will be packing up kit before British forces finally leave Afghanistan next year. Local troops will then take over.
UK servicemen and women have been in Afghanistan since the war against the Taliban started more than 10 years ago.
Afghanistan operation
UK troops are part of an international force called ISAF - or international security assistance force - who have been working to try and bring stability to Afghanistan.
The success of ISAF's mission has been debated, throughout the campaign.
In a recent interview with the BBC the Afghan President Hamid Karzai said that NATO had caused much suffering.
But the outgoing Brigadier of the troops that the 7th Armoured Brigade are replacing, Rupert Jones, said that local commanders believe that 'huge progress has been made'.
Over the course of the conflict there have been casualties on both sides, so far there have been 444 British deaths in Afghanistan.
Click here for more on the history of the war in Afghanistan.