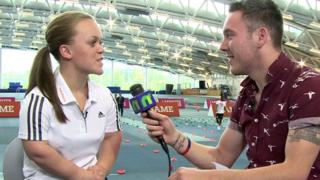 Glasgow 2014 excites Simmonds
Ellie Simmonds OBE says she'll be cheering for the athletes at Glasgow 2014, even though she's not competing herself.
The Paralympic gold medallist told Newsround she is still excited, despite her event not being part of the Games.
Glasgow 2014 will be different from London 2012 because sports for disabled athletes are not a separate event.
The countdown to Glasgow 2014 began on Wednesday 9 October when the Queen's Baton began its epic global journey.
Watch more Newsround videos