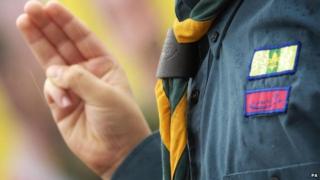 PA
The Scout Association has announced a new version of its membership promise for children who do not believe in God.
From January, instead of vowing "to do my duty to God", scouts can instead promise to "uphold our scout values".
Scouts will still be able to choose the original promise which has remained unchanged for 106 years.
Hindus and Buddhists can also say "my Dharma" in the scout promise, while Muslims can say Allah.
Wayne Bulpitt from the UK Scout Association said the move showed that the Scouts were determined to be "truly inclusive".
On my honour, I promise that I will do my best, to do my duty to God and to the Queen, to help other people and to keep the Scout Law
On my honour I promise that I will do my best to uphold our scout values, to do my duty to the Queen, to help other people and to keep the Scout Law