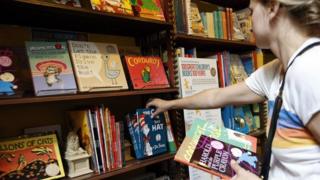 Booktrust has revealed a list of 100 books it says children should read before they turn 14.
Winnie the Pooh, The Famous Five and The Hungry Caterpillar are three of the classics that made it onto the list.
But some favourites are missing including Roald Dahl's Charlie the Chocolate Factory, RL Stine's Goosebumps and David Walliam's Gangsta Granny.
Claire Shanahan from Booktrust said: "We know there will be some debate around the list, and we welcome it!"
How many have you read?
Here a list of all the books on the list for people aged 12 and below.
The Cat in the Hat by Dr Seuss (0 - 5 years)
Where the Wild Things Are by Maurice Sendak (0 - 5 years)
The Tiger Who Came to Tea by Judith Kerr (0 - 5 years)
The Very Hungry Caterpillar by Eric Carle (0 - 5 years)
The Elephant and the Bad Baby by Elfrida Vipont (0 - 5 years)
Meg and Mog by Helen Nicholl (0 - 5 years)
Dogger by Shirley Hughes (0 - 5 years)
Each Peach Pear Plum by Allan Ahlberg (0 - 5 years)
Would You Rather? by John Burningham (0 - 5 years)
The Snowman by Raymond Briggs (0 - 5 years)
Not Now, Bernard by David McKee (0 - 5 years)
Where's Spot? by Eric Hill (0 - 5 years)
Dear Zoo by Rod Campbell (0 - 5 years)
Gorilla by Anthony Browne (0 - 5 years)
Hairy Maclary From Donaldson's Dairy by Lynley Dodd (0 - 5 years)
The Jolly Postman by Allan Ahlberg (0 - 5 years)
Princess Smartypants by Babette Cole (0 - 5 years)
I Want My Potty by Tony Ross (0 - 5 years)
We're Going on a Bear Hunt by Michael Rosen (0 - 5 years)
I Will Not Ever Never Eat a Tomato by Lauren Child (0 - 5 years)
Room on a Broom by Julia Donaldson (0 - 5 years)
Lost and Found by Oliver Jeffers (0 - 5 years)
Little Mouse's Big Book of Fears by Emily Gravett (0 - 5 years)
Ten Little Fingers and Ten Little Toes by Mem Fox (0 - 5 years)
I Want My Hat Back by Jon Klassen (0 - 5 years)
Pippi Longstocking by Astrid Lindgren (5 - 7 years)
Winnie-the-Pooh by A. A. Milne (6 - 8 years)
The Story of Babar by Jean de Brunhoff (6 - 8 years)
Little House in the Big Woods by Laura Ingalls Wilder (6 - 8 years)
The Enchanted Wood by Enid Blyton (6 - 8 years)
Five on a Treasure Island by Enid Blyton (6 - 8 years)
Finn Family Moomintroll by Tove Jansson (6 - 8 years)
My Naughty Little Sister byDorothy Edwards (6 - 8 years)
Charlotte's Web by EB White (6 - 8 years)
A Bear Called Paddington by Michael Bond (6 - 8 years)
Asterix the Gaul by Rene Goscinny and Albert Uderzo (6 - 8 years)
Flat Stanley by Jeff Brown (6 - 8 years)
The Worst Witch by Jill Murphy (6 - 8 years)
Mister Magnolia by Quentin Blake (6 - 8 years)
The Queen's Nose by Dick King-Smith (6 - 8 years)
The True Story of the Three Little Pigs by Jon Scieszka (6 - 8 years)
Amazing Grace by Mary Hoffman (6 - 8 years)
The Adventures of Milly Molly Mandy by Joyce Lankester Brisley (6 - 8 years)
Horrid Henry by Francesca Simon (6 - 8 years)
The Sheep-Pig by Dick King Smith (6 - 8 years)
Clarice Bean, That's Me by Lauren Child (6 - 8 years)
That Rabbit Belongs to Emily Brown by Cressida Cowell (6 - 8 years)
Diary of a Wimpy Kid by Jeff Kinney (6 - 8 years)
The BFG by Roald Dahl (6- 8 years)
The Arrival by Shaun Tan (6- 8 years)
The Adventures of Tin Tin by Herge (9 - 12 years)
Swallows and Amazons by Arthur Ransome (9 - 12 years)
Ballet Shoes by Noel Streatfield (9 - 12 years)
The Hobbit by J R R Tolkien (9 - 12 years)
The Little Prince by Antoine de Saint-Exupéry (9 - 12 years)
The Lion, The Witch and The Wardrobe by C. S. Lewis (9 - 12 years)
The Borrowers by Mary Norton (9 - 12 years)
The Wolves of Willoughby Chase by Joan Aitken (9 - 12 years)
Stig of the Dump by Clive King (9 - 12 years)
Carrie's War by Nina Bawden (9 - 12 years)
Goodnight Mr Tom by Michelle Magorian (9 - 12 years)
The Witches by Roald Dahl (9 - 12 years)
Matilda by Roald Dahl (9 - 12 years)
Truckers: The First Book of the Nomes by Terry Pratchett (9 - 12 years)
The Story of Tracy Beaker by Jacqueline Wilson (9 - 12 years)
Flour Babies by Anne Fine (9 - 12 years)
Harry Potter and the Philosopher's Stone by J. K. Rowling (9 - 12 years)
Skellig by David Almond (9 - 12 years)
Holes by Louis Sachar (9 - 12 years)
Artemis Fowl by Eoin Colfer (9 - 12 years)
Journey to River Sea by Eva Ibbotson (9 - 12 years)
Private Peaceful by Michael Morpurgo (9 - 12 years)
Millions by Frank Cottrell Boyce (9 - 12 years)
Once by Morris Gleitzman (9 - 12 years)
A Monster Calls by Patrick Ness (9 - 12 years)