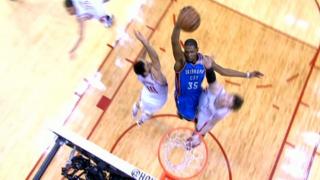 NBA basketball comes to UK
Two NBA basketball teams from the United States will play against each other in the UK today for the first time.
Oklahoma City Thunder will meet the Philadelphia 76ers for a friendly game at the Manchester Arena.
Basketball is one of the most popular sports in the US and the players are keen to convert footy-mad Brits to basketball lovers.
Star player Kevin Durant said: "It's going to be hard to convert them from football fans to basketball fans."
"Hopefully they'll enjoy it and more people start going to matches over here."
We sent Newsround reporter Martin to a training session to take a closer look.
Watch more Newsround videos