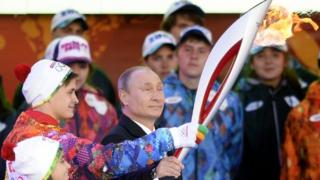 Longest ever torch relay begins
The longest torch relay in Olympic history is underway in Russia - the biggest country in the world.
The flame for the Winter Games started a journey that will take it to the North Pole, to the bottom of a lake and up to the International Space Station!
14,000 torchbearers will carry the flame over the next 123 days.
The torch relay is a chance for Russians to show off their country and they want to impress, but there have already been a few problems.
Work on Olympic venues is thought to have cost more than expected.
Russia has also been criticised for the way it's treated people who came from other countries to work on the sites.
Watch more Newsround videos