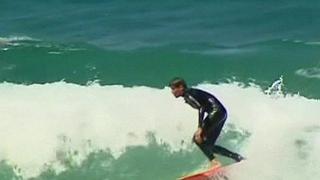 1D boys spotted surfing in Australia
A sunny beach in Australia may seem like a lovely place to relax - but it isn't when One Direction are around!
Liam and Louis took time out from their tour of Australia to go surfing on Whale Beach in Sydney.
They were soon spotted by adoring fans and lifeguards had to step in to keep them away.
Even the news helicopter from Channel 7 News showed up to snap the boys riding the waves.
Watch more Newsround videos