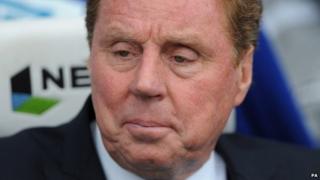 Harry Redknapp says Football Association bosses do not have the knowledge required to choose the best England manager.
"I wouldn't trust the FA to show me a good manager if their lives depended on it," he wrote in an extract of his autobiography which appeared in the Daily Mail.
The 66-year-old QPR boss said: "Everyone said I was the people's choice, the only choice. All the senior players seemed to be up for me to get the job."
But he insisted he doesn't bear a grudge against Roy Hodgson who ended up getting the job.
"This isn't about them giving the England job to me or Roy Hodgson", he said.
"[It's about] English football being run by people who really haven't got a clue - and they get to pick the England manager."
The Football Association told us they didn't intend to comment on Harry's remarks.