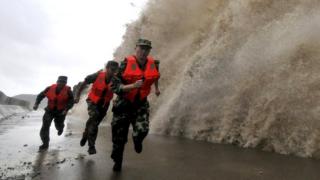 Typhoon Fitow hits eastern China
Thousands of people in south-east China have been told to leave their homes over fears that Typhoon Fitow could cause a lot of damage there.
The powerful storm hit Fujian province early on Monday and the heavy rain has already caused widespread power cuts.
Some homes are said to have collapsed during the typhoon in neighbouring Zhejiang province.
The storm is expected to bring heavy rain and high winds to five Chinese provinces over the next three days.
Watch more Newsround videos