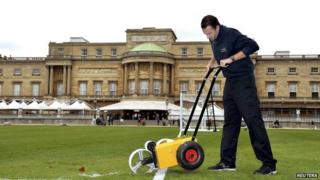 Buckingham Palace hosted its first official football match on Monday to mark the Football Association's 150th anniversary.
The idea came from the Duke of Cambridge, Prince William, who is President of the FA.
Prince William hosted the event and presented medals to 150 volunteers.
The Queen gave permission for the Southern Amateur League fixture to take place.
Buckingham Palace has been used to stage concerts before - but now the lawn has been mown with criss-cross strips like at Wembley.