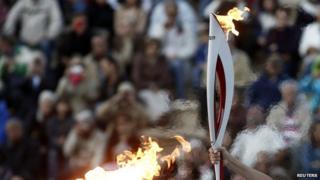 The countdown to next year's Winter Games in Sochi will began when the Olympic flame arrived in Russia.
The flame was handed over to the hosts of the 2014 Winter Games and will now travel across Russia before arriving in Sochi for the start of the Games in February.
It's the first time the Olympic flame has been in the country.
The flame will take 123 days to cross 65,000 kilometres carried by 14,000 torch bearers.
The Sochi 2014 Olympics Committee President Dmitry Chernyshenko said:
"Russia, for the first time in its history, received one of the most important, well-known symbols in the world - the Olympic flame.
We are proud that our Russian torch relay will be unique."