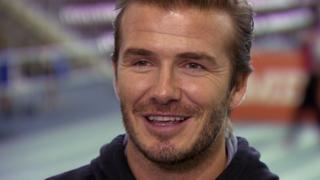 David Beckham answers your questions
Football legend David Beckham has revealed how he keeps fit - by working out to Spice Girls songs.
The sporting hero revealed the secret at the Sainsbury's Active Kids event in London.
The training session for 170 children was held to help inspire young people to lead healthier, more active lifestyles.
We sent Newsround reporter Martin along to meet David with some of the questions you sent to us.
Watch more Newsround videos