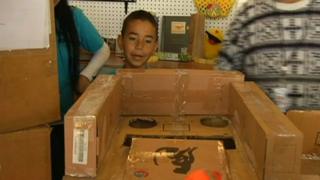 The Global Cardboard Challenge is asking children to get creative with cardboard. It's after a video of a cardboard arcade built by a nine-year-old went viral.
Caine Monroy built a complicated cardboard games arcade in his dad's shop and the video about it has inspired people across the world.
We want to know what you've made out of cardboard?
What would you make for the Cardboard Challenge?
Maybe you've made a fort, some armour or even a cardboard plane. Let us know your most impressive cardboard creation using this form.
Your comments
I have made several houses out of cardboard including beds with pillows and covers.
Ashleigh, Wisbech, England
I made a cardboard rocket two years ago for a school project. If I can get hold of some more cardboard I will make a small car.
Olivia, Surrey, England
Me and my sister Louise have made marvellous guitars this morning and are driving my mum CRAZY!!
Steve, Cheshire, England
I've made a whole dollhouse using cardboard!!
Lola Rose, England
I made a tardis.
Callum, Wigton, Cumbria
I have made a haunted house for Halloween!
Chloe, Grimsby, England
I have made a minecraft diamond helmet!
Amandie, Birmingham, England
The best thing I made out of cardboard is a model of a city.
Fatema, Blackburn, England
I have made a cardboard car.
Charlie, Newcastle, England
I made a car out of cardboard it's amazing and my reg number is izzie06
Isabella, Staffordshire, England
I once made a huge fairytale castle out of a massive cardboard box, it had an opening door, windows and even turrets, it was amazing.
Lili, Leeds, England
I've a huge life size maze out of boxes, me and my family had hours of fun playing in it.
Millie, Bridlington, England
We made suits of armour in the summer and then had a battle!
Kieran and Reece ,Totland, Isle of Wight
I've made a Hogwarts replica with beds and stairs.
Eve, South Shields, England
I made a tardis out of a cardboard box my refrigerator came in!! I painted it blue but it fell apart when I tried to go in it!
Matthew, England
I would make a cardboard robot with light up eyes to freak my friends out.
Ellie, North Yorkshire, England
I once made a racing car and I also painted it red and blue.
Gennie, Manchester, England
I'm like the cardboard queen. I make dolls houses, inventions and very crazy things. It took me four hours to make a doll's treehouse and furniture but it turn out pretty cool.
Sophie, Northern Ireland