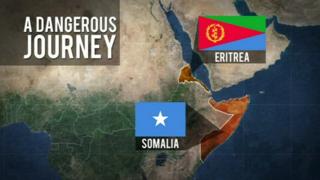 The journey from Africa to Italy
At least 300 people have died after a boat carrying African migrants sank off the island of Lampedusa in southern Italy.
Each year, thousands of men, woman and children set off from north Africa across the Mediterranean Sea.
Parts of north Africa are torn apart by war and poverty. Life there can be very dangerous and many people are desperate to change their lives.
But there are strict rules about who can come to live in Europe. Sometimes the only way for migrants to get to Europe is to pay criminal gangs to take them.
Many migrants squeeze into small and sometimes unsafe to try and make the dangerous crossing to Europe.
Even if they make it, there's no guarantee they can stay. As they're travelling to Europe unofficially, the people are classed as illegal migrants.
Thousands of people are sent back to Africa but that doesn't stop people from making the same perilous journey every year.