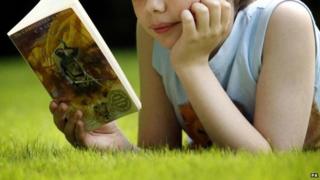 Fewer children in the UK are reading outside of school - and one in five is embarrassed to be caught with a book, a survey suggests.
One in four children said they read books outside of school, compared to one in three back in 2005.
The National Literacy Trust asked 35,000 children from 188 schools to take part in the survey.
They found that the number of children reading e-books outside of school had doubled since 2010.
We asked you what you think.
Your comments
We all think that reading is really important because it is essential in your education and it will help you to get a job one day. It even helps you when you learn to drive - how else will you be able to read the road signs?
Albert, Lancashire, England
I love reading. I get in trouble for reading too late all the time. I ended up getting my torch confiscated but what did I do? I learnt to read in the dark of course! I don't know how anyone could not like reading.
Priya, Tranent, Scotland
I think that people should read every day but take care to read in good light, as they might need glasses if they strain their eyes.
Josh, Rustington, England
If the school day is lengthened then children should be asked to read in the additional time, because reading helps with spelling, language and writing skills.
Alistair, Worthing, England
We think that books are great. We also think that books should include audio CDs so blind people can read/listen to the books.
Kitty and Stephanie, Bournemouth, England
It's terrible that some children feel guilty when they are caught reading books. Reading books is really fun and enjoyable and you shouldn't feel guilty of doing something that you enjoy, should you?
Keith, Birmingham, England
Reading takes you to another world.
Breanna, North Berwick, Scotland
I like reading but I find it hard because I'm dyslexic.
Hillierm, England
I can't even think what life would be like without reading! I usually read about 5 books a week, of all different types. I love reading and I think kids should get into it more.
Abby, Edinburgh, Scotland
I think reading is boring although it helps sometimes with writing!
Willow, Ipswich, England
Reading is fun but still not as good as films. I would only read before I go to bed.
Charlie, London, England
I love reading, it is my defiant passion. I also take inspiration from books I read - and write my own!
Freya, London, England
I don't think reading is a embarrassment. I read all the time, wherever I am. Reading improves your spelling and your language.
Maddy, Bristol, England
I really like comic books as I am dyslexic but I do really get stuck in to books as I have nothing else to do - but my friends laugh at me when tell them what I do in my spare time.
Anthony, Manchester, England
I'm forever stuck in a book, and am always downloading new ones on my Kindle! But I do think kids now think reading is for nerdy people and I don't like that.
Ayesha, Feltham, England
I don't spend much time reading unless it is a good book. At the moment I love the Twilight books and I am spending a lot of time reading Breaking Dawn.
Charmaine, Leeds, England
I don't like reading in school because my friends make fun of me, so I love to read outside of school.
Kayleigh, Essex, England
I love reading books, however if the book isn't good I will put it straight down.
Ellie, England
Books are amazing! People don't realise that some movies and plays would have never existed if books hadn't been written.
Sofia, Surrey, England
I don't really like reading, I find it quite boring. But if people enjoy reading then I say go for it!
Katie, Tunbridge Wells, England
I love reading books everywhere mainly because of the excitement and action in most books. The best type of book is drama and action. I find it sad that fewer kids are reading books.
Noah, Bromley, England
I love to read and reading is my favourite thing to do. I like fiction books and my favourite book is Matilda. I love to get a new book and if you read it helps you with your school work.
Lily, Nuneaton, England
I love getting stuck into a good book and letting my imagination run wild. Children shouldn't be embarrassed when they're caught reading because its a good way to open your vocabulary.
Emily, Peterborough, England
I love to read books wherever I am, even in school. I love to read even if I am in another country! But most of my friends don't like to read - but they like long picture books in our classroom book corner!
Amy, Stokenchurch, England
I love to read books, I always go to the library during lunch to look at the newest books. I prefer reading horror and mystery books but most of my friends prefer reading romance and gossip magazines. I also read a bit of non-fiction sometimes as I am obsessed with history.
Nia, Dorset, England
I love getting stuck into a good book like Harry Potter or Tiger Wars by Steve Backshall. But I think that kids nowadays like games and gadgets more than books, and would be embarrassed to be found reading.
Emily, Chelmsford, England
No I'd rather play video games in the winter and go outside in the summer. I rarely read a book outside of school. I used to love reading when I was younger but now I am older I find books boring.
Bradley, Chesterfield, England
They are awesome and I like Michael Morpurgo and Jacqueline Wilson - they are good authors.
Sif, Morden, England