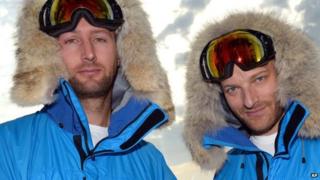 Two explorers plan to trek to the South Pole unassisted and complete a trip attempted by Captain Scott in 1910.
Ben Saunders and Tarka L'Herpiniere plan to trek 1,800 miles: from the edge Antarctica to the South Pole and back.
Captain Scott and his team managed 1,600 miles of the journey before they died from starvation and extreme cold in 1912.
Ben said: "Finishing Scott's journey is a mammoth undertaking but... one that I'm hugely looking forward to."
Ben and Tarka will take around 110 days to complete the trip and will face extremely cold temperatures of -50C.
The exploring duo plan to document their trip with videos, photos and a blog.