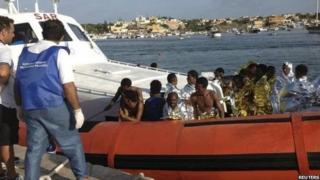 Refugees killed as boat sinks
At least 92 people have died after a boat carrying African migrants sank off the island of Lampedusa in southern Italy, the island's mayor says.
More than 140 have been rescued but many more are missing, officials say.
It's thought more than 500 people were on board the boat when it caught fire and turned over. Officials say many people threw themselves into the sea.
Today's accident is thought to be one of the worst accidents of this kind Italy has seen in recent years.