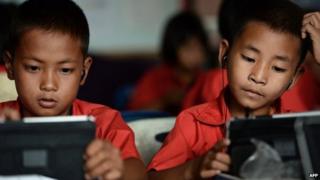 The number of kids owning basic mobile phones (not smartphones) has fallen for the first time, according to stats from telecoms regulator, Ofcom.
They say 43% of kids aged five to 15 now own a mobile, compared to 49% in 2012.
Instead of using mobiles, kids are now turning to tablet computers.
Ofcom said tablets have become "a must have device" for kids of all ages. The number of kids using tablets at home has tripled since last year.
In 2012, 14% of kids aged five to 15 used a tablet at home, while in 2013 it's 42%.
And tablets are being used more and more by your younger brothers and sisters. Over a quarter of three- to four-year-olds now use a tablet computer at home.