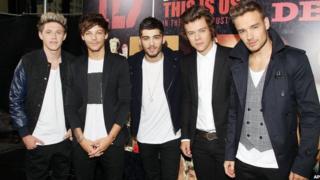 One Direction announce 1D Day
One Direction have announced plans for a day of continuous live streaming, giving fans from all over the world chance to interact with them.
1D Day will feature sketches with the band, special guest appearances and fan-generated videos.
It's set for 23 November to coincide with the release of the band's new album Midnight Memories on 25 November.
The band hope to connect with fans from all over the world during the seven-hour broadcast.
Directioners are invited to send in questions for the boys, who want to thank fans for their continuous support.
Band member Liam says: "1D Day is all about giving back to our amazing fans for supporting us for the past three years.
"When we suggested it we never thought anyone would let us loose, live, all day - we cannot wait!"
Watch more Newsround videos