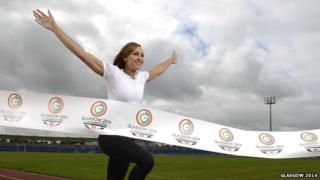 Glasgow 2014
Hundreds of thousands of people find out from today if they've got tickets to the Commonwealth Games in Glasgow.
Over 2.3 million people applied for tickets with just under 1 million seats up for grabs.
Organisers will be sending out emails and letters to people who earlier applied for tickets to the games which start next summer.
Glasgow 2014 will feature 17 sports, with track cycling being the most popular in ticket applications.
Read more: What are the Commonwealth Games?
We asked you what you think
Are you excited for the Commonwealth Games? Have you applied for tickets and for which events?
Have you found out whether you've got tickets yet?
Who are you looking forward to seeing competing?
Your comments:
Yes, I'm really excited! I'm going to Hockey and Swimming - my favourite sport!
Holly, London, England
I have got some tickets for the diving and I am so excited.
Taylor, Essex, England
I got tickets for Track and Field! I'm so excited!
Jade, Derbyshire, England
I really, really want to go to the Commonwealth Games because I enjoyed the Olympics. We applied for tickets but have not had a e-mail yet!
Nicola, Norwich, England
We have tickets to see the finals of the rugby 7s and we are so excited!
Ella, Aberdeen, Scotland
We were lucky to receive tickets for Gymnastics Rhythmic & Artistic finals, Table Tennis & Track and Field. We are really excited for next year!!
Maisie, Glasgow, Scotland
I got tickets for the Track Cycling event and I am really excited about watching it in the stadium.
Daniel, Waltham Abbey, Essex
I have applied for tickets for 2014 but we only got tickets for athletics and rugby 7s.
Andrew, Edinburgh, Scotland
I got tickets so far for 100 metre sprint final and I am very happy!
Hannah, Strathaven, Scotland
I don't know yet because my Mum said she hasn't had an email. If we do get tickets I will be over the moon and really upset if I don't. I would love to see the swimming as I swim four times a week and I want to be a famous swimmer.
Martha, Northampton, England
I think it's going to be very exciting for the people who have got the tickets but unfortunately I didn't get any :( I'm hoping to watch it on tv though!
Nabhan, Ilford, England
I'm not sure yet whether we have tickets or not. But hopefully we'll be going to some diving and athletics! I'm very excited :-)
Anna, Edinburgh, Scotland