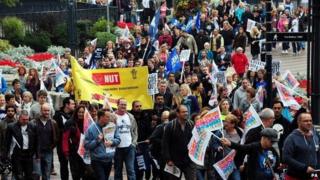 Thousands of teachers have been on strike today in some parts of England.
They've not gone to work for a day in a row over pay, pensions and working conditions.
As a result at least 2,500 schools were either closed or affected in the east of England, the Midlands, Yorkshire and the Humber.
The government says strikes are disruptive but the unions that represent teachers say it was the last resort.
It's the second of three regional strikes, the first of which was in June in the north-west of England.
Another strike will happen on October 17 in north-east, south-east and south-west England, Cumbria and London.
Wales, Scotland and Northern Ireland are not affected by the action, but the unions say that unless there's a resolution there'll be a national strike before Christmas.