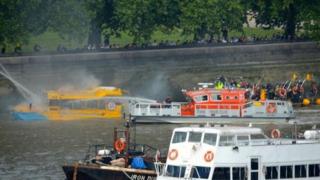 Thames Duck Tours put on hold
Thirty people were rescued when a tourist boat on London's River Thames caught fire close to the Houses of Parliament.
Many people jumped into the river from the London Duck Tours craft - which can travel on both land and water.
All the passengers and crew were rescued by the emergency services and a passing tourist boat.
Paramedics said that those rescued were mainly "wet and cold" but some people had breathed in smoke.