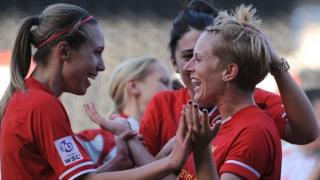 Liverpool Ladies clinched their first Women's Super League title by beating Bristol in the end-of-season decider.
Bristol started the match two points behind the Reds and needed a win to snatch the championship.
Goals from Louise Fors and Katrin Omarsdottir sealed the 2-0 win to end Arsenal's nine-year dominance in the women's game.
Liverpool had finished bottom of the table for the last two seasons.
But after huge investment from the club's American owners, manager Matt Beard was able to buy lots of new players.
The money clearly helped as the team only lost twice all season.
Liverpool Ladies striker Natasha Dowie described the Reds's Women's Super League title win as "surreal".
The WSL top scorer said: "It was nerve-wracking. I didn't enjoy any second of the game until the final whistle blew," said the 25-year-old.