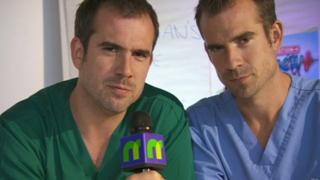 Operation Ouch returns to CBBC
Ever wondered what would happen if you forgot to brush your teeth for days?
Well that's just one of the many gruesome questions top CBBC doctors Chris and Xand will be answering in the brilliant new series of Operation Ouch.
Martin called them into the Newsround "surgery" to find out more.
The new series of Operation Ouch starts on Monday 30th September at 5:30pm on CBBC.
More entertainment stories