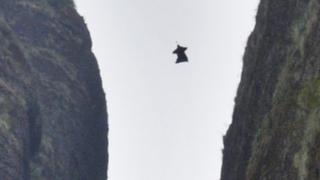 Stuntman soars through mountain
An American wingsuit flyer has dived through a narrow gap in a mountain in east China's Zhejiang Province.
Jeb Corliss performed the jump and dive in the Langshan Mountain in Quzhou.
It was tight stuff - the gap he flew through was only 3.5m wide at its narrowest point.
Two years ago he performed a similar stunt through Tianmen Hole - an actual hole through a mountain in China's Hunan province.
Watch more Newsround videos