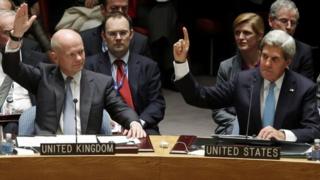 The United Nations Security Council has backed a plan that will see Syria destroy its chemical weapons.
Countries including the UK, US and Russia voted in favour of the decision in New York last night.
The deal means Syria will have to destroy its weapons by the middle of 2014.
Speaking after the vote in New York, UN Secretary General Ban Ki-moon described the decision as "historic".
The deal breaks a two-and-a-half year deadlock in the UN over Syria, where fighting between government forces and rebels rages on.