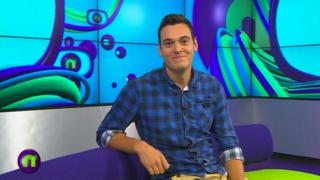 Joe says goodbye on last bulletin
After four years presenting on Newsround, Joe is leaving for pastures new.
So we thought it'd be nice to get him to write a few words to say goodbye.
Take it away, Joe!
I have enjoyed every minute of my four years at Newsround.
I started off presenting the weekend bulletins which involved working in a little tiny room at the old Television Centre in London and have since moved all the way up to Salford to our big, new shiny home.
I've done some amazing things with the show - my highlight is reporting for 3 days with little sleep on the incredible royal baby story!
I've also made some great friends like my fellow presenters and all the producers and workers on the show behind the scenes.
Thanks for watching and I'll see you around!
Joe
Bye Joe - you'll be missed!
Watch more Newsround videos