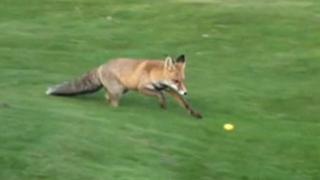 The fox who steals golf balls!
A clever fox is robbing golf balls and hiding them at a golf club in Valais in Switzerland.
The fox has been filmed waiting as a golfer takes a shot and then running out to stealing the ball.
Locals say the animal, named Foxy, is often hiding behind the shrubbery and when he gets a ball, heads behind buildings and hides it.
Check out the clip and see the cheeky fox in action!
Watch more Newsround videos