Britain's Sir Ben Ainslie has taken Team USA to an incredible victory in the gruelling America's Cup sailing contest.
The four times Olympic gold medallist was brought in to help the team overcome opponents New Zealand, who at one stage were leading 8-1.
But the sailing tactics for which Ben is famous helped USA's huge comeback.
They went on to win an unbelievable eight races in a row to claim a 9-8 victory last night.
A British team has never won the trophy. Now, Ainslie has started up his own sailing team, called Ben Ainslie Racing, to try to do just that.
"The America's Cup started in 1851 in the UK and we haven't had it back since so it's about time we changed that."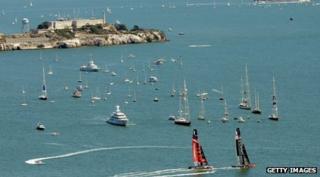 What is the America's Cup?
The America's Cup is a tough sailing competition that first took place in 1851 off the coast of the Isle of Wight in southern England.
It happens every three to five years, with the winner getting to choose the venue, time and style of the next competition.
The event begins with a challenger series which decides which team will take on the cup's defender that year.
For the 2013 America's Cup, USA were the defending champions and teams from New Zealand, Italy and Sweden competed to see who would take them on.
New Zealand ended up being the challengers and looked to have it won at 8-1 where the first team to nine wins.
But with Ainslie on board, the US team Oracle won eight races in a row to make it 9-8 overall.