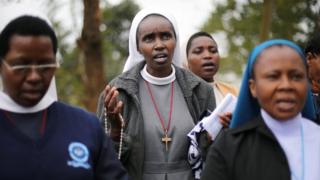 Kenya has begun three days of national mourning following a siege at a shopping centre in the capital Nairobi.
President Uhuru Kenyatta appeared on television on Tuesday night and declared the siege had ended.
He confirmed at least 72 people had died, including six security officers and five of the militants.
"We have ashamed and defeated our attackers," said the president. "Kenya has stared down evil and triumphed."
"These cowards will meet justice, as will their accomplices and patrons, wherever they are," he added.
Eleven people have been arrested in connection with the attack.
Previously on Newsround: Kenya shopping centre under siege